Students spend the week engaging with our environment and learning more about themselves and their relationship with their great creator.
We facilitate swimming from May to October with two swim dock and a roped-off swimming area defined by a ring of buoys. Campers must wear life jackets in the water at all times. Certified lifeguards will be provided by Camp Goddard.
We have a fleet of canoes, john boats, paddle boards and kayaks as well as life jackets, available for our campers.
We have a private harbor on Arbuckle Lake open to swimming from May 1 - October 31. We have a floating water park consisting of trampolines slides and climbing walls.
We have a large covered dock with comfortable seating. We provide all of the bait and equipment.
All three camp areas have their own sand volleyball courts, and volleyball is always a popular activity with our campers and counselors.
Archery is a favorite among our campers. We provide the best quality targets ranging from standard scoring targets, dinosaurs to fish. Our bows and arrows are the highest quality and the same bows used in school competition.
TEAM BUILDING & CHALLENGE COURSE
We have a 12,000 square foot team building area. Here you will find a GaGa pit, rope swings, teamwork obstacles, and many other activities purposefully geared toward team building. There are areas to sit and catch breath while discussing the activities accomplished as a group. This is a fun learning experience with practical and memorable solutions to problem solving as a group or team.
CABINS
Camp Goddard has 21 cabins, seven each in Area's 1, 2, and 3. Our cabins feature three glass walls, giving our residential guests the unique feeling of sleeping in the woods. Each cabin has 10 beds and has heat and air conditioning to ensure the comfort of our guests. Each cabin bed has a mattress protector with a bed cover, but campers provide their own bedding (i.e. sleeping bags, sheets, blankets and/or pillows).
DINING HALL
Featuring glass walls that overlook the cabins and the lake, our Dining Hall is a beautiful space that seats 150. We offer cafeteria-style "all you can eat" food service that gets rave reviews from our campers.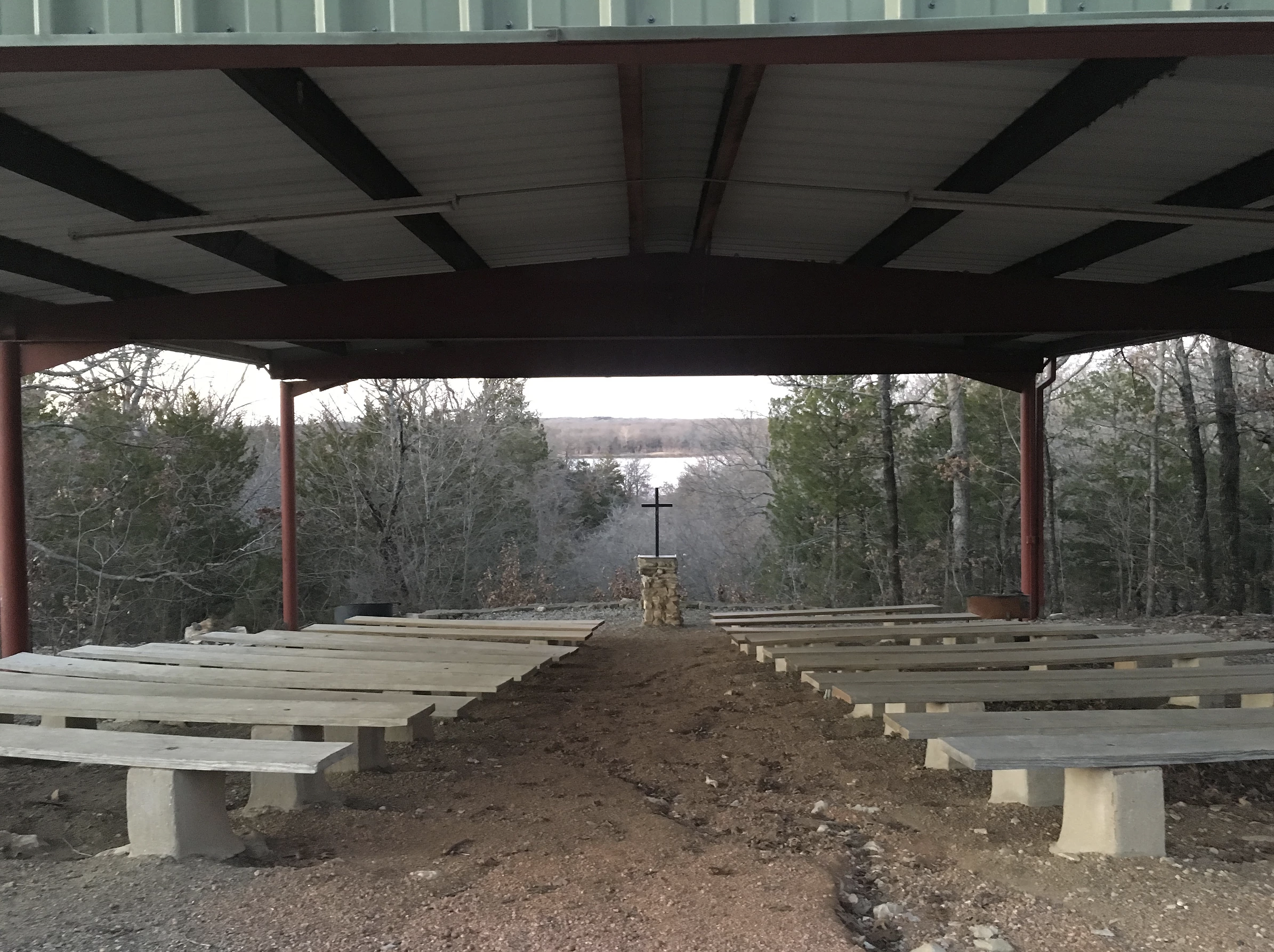 OUTDOOR CHAPEL
Beautiful in its simplicity, the chapel in the woods seats about 150 and is greatly valued by the church groups and faith-based schools who attend our residential programs. There is nothing quite like worshiping in nature. The outdoor chapel allows for large groups to sing, pray, and fellowship with each other in God's country.